In the News
Plaskett Blasts USPS, Service Says It's Keeping Up
This article is published in the February 13, 2018 edition of the Virgin Islands Daily News
This article is published in the February 13, 2018 edition of the Virgin Islands Daily News
V.I. Delegate to Congress Stacey Plaskett has drafted a letter to the Postmaster General criticizing the U.S. Postal Service's handling of mail and package delivery to the territory in the wake of hurricanes Irma and Maria, demanding answers regarding ongoing delays and backlogs.
But U.S. Postal Service spokeswoman Maureen Marion said in an e-mail Monday the mail delivery is up to date in the territory.
"Letter mail is current, without backlog, as is our flat mail (large envelopes, newsletters, and magazines) volumes, although we did see a slight change over the weekend as a power outage impacted flat-sorting operations," she said.
Package sorting continues to be a growth area for the Postal Service, Marion said, and packages are sent to the Caribbean by air and cargo ship, some by third-party contractors using a Parcel Select Ground service — which she said is a postal mail class that offers ground delivery service at very low rates for large or heavy packages up to 70 pounds.
Rates are based on distance, weight and package dimensions, with delivery dates between two to eight days.
"In this service, we see packages arrive in different ways: When broken down by ZIP Code and delivered directly to the delivery post office by a third-party vendor, postal carriers can finalize the last mile of delivery on the next business day in virtually all cases," Marion said. "When delivered in bulk to our processing center in San Juan, additional sorting is required."
The volumes are turned around "within service standards," and there are fluctuations in package delivery times due to weather events nationwide — a package making its way across the mainland could be held up by a snowstorm, for example — and increased package volumes around holidays, Marion said.
"As a matter of good stewardship and to monitor conditions fully, we do regular report outs — at the turn of shifts — to assess mail on hand, mail to process, mail to delivery and so forth," Marion said. "We also continue to take advantage of an extra commissioned cargo flight out of Miami that takes package volumes from the New York metropolitan area directly to the USVI on a daily basis. We began this service in October and continue it to support strong, reliable service into the area."
Plaskett's letter to Postmaster General Megan Brennan conveys the delegate's "concerns and extreme disappointment" in the federal agency's handling of delivery services to the U.S. Virgin Islands.
The letter requests Brennan to brief the House Oversight and Government Committee on the issues, and requests all documents and communications related to the routing of USVI mail through Miami, including communications between USPS employees and with individuals outside of the USPS in the aftermath of hurrianes Irma and Maria.
The letter says Plaskett also wants all documents and communications related to the work and subsequent release of USPS temporary workers assisting with the delivery of mail to the USVI in the aftermath of hurricanes Irma and Maria and all documents and communications related to any USPS plan to deliver mail to the USVI in the aftermath of hurricanes Irma and Maria.
The delegate's letter cites an Oct. 26 telephone conversation between Plaskett and Deputy Postmaster General Ronald Stroman, during which he indicated that USPS hired an additional 200 individuals to eliminate the backlog in Puerto Rico and had entered into a contract to have USVI mail sorted in Miami instead of Puerto Rico in an effort to minimize delays.
"However, significant mail delivery delays have persisted and raise questions about the adequacy of the steps taken by USPS," according to Plaskett's letter. "For instance, it has come to Congresswoman Plaskett's attention that temporary workers hired to help eliminate the backlog have already been released, despite a continuing backlog."
Marion said the USPS routinely brings on additional workers to eliminate backlogs, particularly around the busy holidays, and those workers were always intended to be temporary and employed for 30 to 90 day contracts.
Plaskett's letter emphasizes that restoring mail and package service is vital and that the residents of the USVI should not have to accept continuing substandard service .
"We respectfully request that USPS implement a plan of action that will reduce the mail backlog and restore the mail delivery time to the USVI to standard operations comparable to other U.S. jurisdictions," she wrote.
Marion said all USVI customers have access to mail through delivery or pickup at a designated Post Office or alternate location, and the only post office in the territory that has not resumed full operations is at 2B King Street in Frederiksted.
Post office boxes have been installed at a temporary facility for P.O. Box customers and local customers who receive a delivery notice for oversized or signature-required items, she said.
No retail services are available at that location, which is open from 9 a.m. to 5 p.m. Monday through Friday and 9 a.m. to 3 p.m. Saturday, according to Marion. Stamp sales, package acceptance and money orders are available at the Kingshill location, she said.
— Contact Suzanne Carlson
Office Locations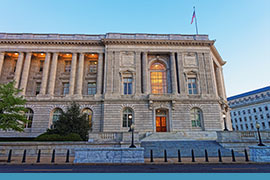 Washington, DC Office
331 Cannon House Office Building
Washington, DC 20515
Phone:
(202) 225-1790
Fax:
(202) 225-5517
Hours: 9-6pm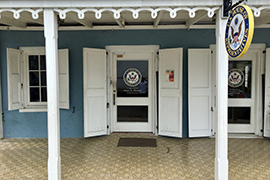 St. Croix Office
60 King Street
Frederiksted, VI 00840
Phone:
(340) 778-5900
Fax:
(340) 778-5111
Hours: 8:30-5pm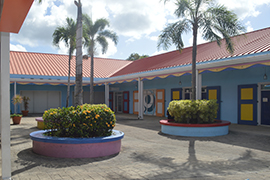 St. Thomas Office
9100 Port of Sale Mall
Suite 22
St. Thomas, VI 00802
Phone:
(340) 774-4408
Fax:
(340) 774-8033
Hours: 8:30-5pm